It was a great day all around.  Fantastic facilitation by Aspiration's Misty Avila, and engaged participation from everyone who attended.  The space we got to play in was wonderful too:  home to the Fusion Theatre Company,  The Cell theater in downtown ABQ was a perfect haven (many thanks to Dennis Gromelski).
Our learning was interactive and full of good dialogue.  First we created a "mindmap" to focus our day based on questions we'd like to ask another artist (see picture below for some of the questions that came up), followed by Paula Scott presenting on her approaches to audience engagement and social media.  Then we had VERY interesting "spectogram" dialogue around the statement "Artists don't need $ to survive."  At the end of the day, Misty led us through a detailed discussion and presentation around Using Online Tools Sustainably.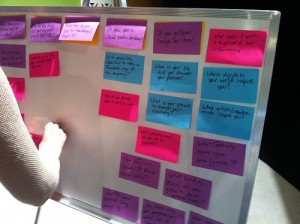 Questions for a favorite artist…
photo by Lauren Rolls
There were also some great online resources shared:  www.fiverr.com  – assistance on design, logos, etc. for $5! www.verticalresponse.com – email newsletter provider (10K emails/month allowed free for non-profits), www.adobeairstream.com – online arts magazine for Santa Fe, Denver and Austin, www.artspan.org and www.fineartstudio.org – artist websites, www.wsj.com – articles about data transparency, www.eff.org and www.afj.org – Electronic Frontier Foundation and Alliance for Justice – watchdogs for privacy and social justice.
As the sun waned we drank beer from microbrewery La Cumbre and ate yummy stuff from Patrick's Gedunk foodtruck with invited friends and family.  NICE!  Thanks to all of you who created such a lovely day.  Let's do it again sometime, yes?!