Opportunities for Organizations Serving Artists and Creators

ArtSpark's flagship product is now available to companies, organizations and institutions serving artists, creators and creative entrepreneurs. The Artist Business Canvas is a business-model building course that supports successful making, marketing and selling of creative work. Available as an online course, the Artist Business Canvas is a hands-on and interactive business model development experience designed specifically for creative people who want an uncomplicated and useful business "blueprint" for their business and career.
Based on the Business Model Canvas developed by Alex Osterwalder and Yves Pigneur in their book "Business Model Generation," ArtSpark has modified and "translated" the canvas so it works particularly well for artists and creators.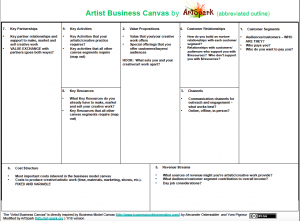 THE PROBLEM:  Creative-sector organizations are experiencing increasing demand from their artist and creator customers, members and students to provide business training and skill development. However, most organizations do not have the expertise or internal capacity to provide this kind of training, professional development, and ongoing support.
THE SOLUTION:  ArtSpark's Artist Business Canvas online course is an opportunity for creative-sector organizations to efficiently and effectively meet the demand for business training from their customers/members/students. ArtSpark has a successful track record of facilitating a creative-centric business model development process with proven, positive outcomes. Outsourcing the demand for business training allows creative sector entities to focus on their core programming and mission.
Participating organizations also benefit financially via a share of course revenues by sponsoring a co-branded Artist Business Canvas online course. Offering the course positively influences the value of their brand by offering this high value-added service to their customers/members or students.
If you represent an organization, company or institution interested in hosting or sponsoring an Artist Business Canvas live workshop, we'd love to talk with you. Please contact us at workshop@art-spark.org to set up a consultation.