Opportunities for Organizations Serving Artists and Creators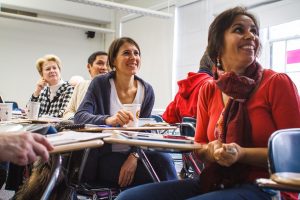 Solutions for Organizations Like Yours
Are you a creative-sector organization or institution that's hearing from your artist and creator members/customers that they want to successfully build a business but don't know how?  Does your organization want to assist your artists and creators with the "business side" but can't take it on given how many internal resources it takes to build and offer new programs?  
ArtSpark Can Help! 
ArtSpark has facilitated business workshops for artists and creators in the U.S. and Canada since 2010, and The Artist Business Canvas is our own response to more and more artists and creators asking for a foundation of business skills and resources. The Artist Business Canvas is a unique business-model building tool developed by artists for artists that empowers and equips artists and creators to successfully make, market and sell their creative work sustainably.
CONTACT US at course@art-spark.org to contact us about hosting or sponsoring the Artist Business Canvas course.
HOW can ArtSpark Help Your Organization?
ArtSpark's Artist Business Canvas is now available via online and live workshops. The online course (our newest venture!) continues to be a hands-on and interactive business model development experience that gets results.  (ALSO NOTE:  Participating organizations also benefit financially via a share of course revenues by sponsoring a co-branded Artist Business Canvas course.)
HOW Can My Organization Move Forward With ArtSpark?
To learn more about the Artist Business Canvas, check out this blog post about its history, and please visit us on Facebook and Twitter. Plus, here's a short video we created to invite artists/creators to join an online course that finished up in spring, 2017.  For more info or if you have questions, feel free to contact us:  course@art-spark.org.