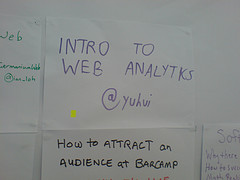 Yes!  IF web analytics are introduced in a webinar by none other than Matt Garcia from Aspiration Tech.  Granted, learning about click through rates and bounces and what graphs of users look like is akin to an unbearable math class (at least for some of us).  Yet using analytics and metrics to measure the impact of your online presence is essential; just going along doing activities like emailing fans, blogging and updating social media without looking at your web analytics seems not smart (as well as a waste of time…).  ALSO learning about analytics as a group is much easier and more enjoyable than going it alone.
Here's a bit of what we ArtSparkers learned:
Tracking is KEY.  Trends are much more important than isolated numbers (especially when we learned that those numbers aren't very reliable at all… but that's another story…).
Start with measurable goals (goals determine the

value

you're giving your audience).
Develop a simple tracking document/spreadsheet that's updated once a week or so to show the analytics trends.
Make notes on peaks and dips in analytics to describe what content or events might have caused them.
There ARE alternatives to Google analytics, e.g., Piwik (which is also "open source" software and not invasive around privacy like Google).
Analytics come with email blasting software and are generally very good (e.g., Mail Chimp, Vertical Response).
Twitter doesn't have built-in analytics (but they're coming).  You can use metrics like followers, retweets, @ mentions and hashtag use to measure interactions.
Facebook has built-in analytics called "Insights" but they're only available for pages, not individual profiles or groups.
Start small:  make small changes to messaging over time to take advantage of what analytics tell you.
ArtSpark/Aspiration Tech's next webinar will focus on social media dashboards on December 9th.  Stay tuned!