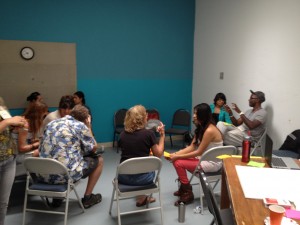 Following up on the ArtSpark/AspirationTech training at Working Classroom on July 27, 2013, ArtSpark has TWO upcoming events in September that artists in NM might be interested in joining.
1) Saturday, September 28th, 10a-12p:  "Branding Yourself as An Artist/Artisan/Arts Organization" workshop with Nicole Capehart hosted by Working Classroom.  This workshop choice was #1 on the list of follow-up activities identified by participants at the July 27th event (plus Nicole is a great facilitator & this is her favorite topic!)
2) Saturday, September 14th, 10a-12p:  ArtSpark meet-up around audience development and online communication/social media at Zendo in downtown ABQ.  Come with your questions, ideas, problems, successes, etc. and we'll put our collective head together to assist and support one another!  Plus, come and support Zendo – an amazing and very arts-friendly coffee house and gallery!
Both events are by donation – sliding scale fee starting at 5 bucks (or if you can't pay you can pitch in during the events).