About the ArtSpark Business Canvas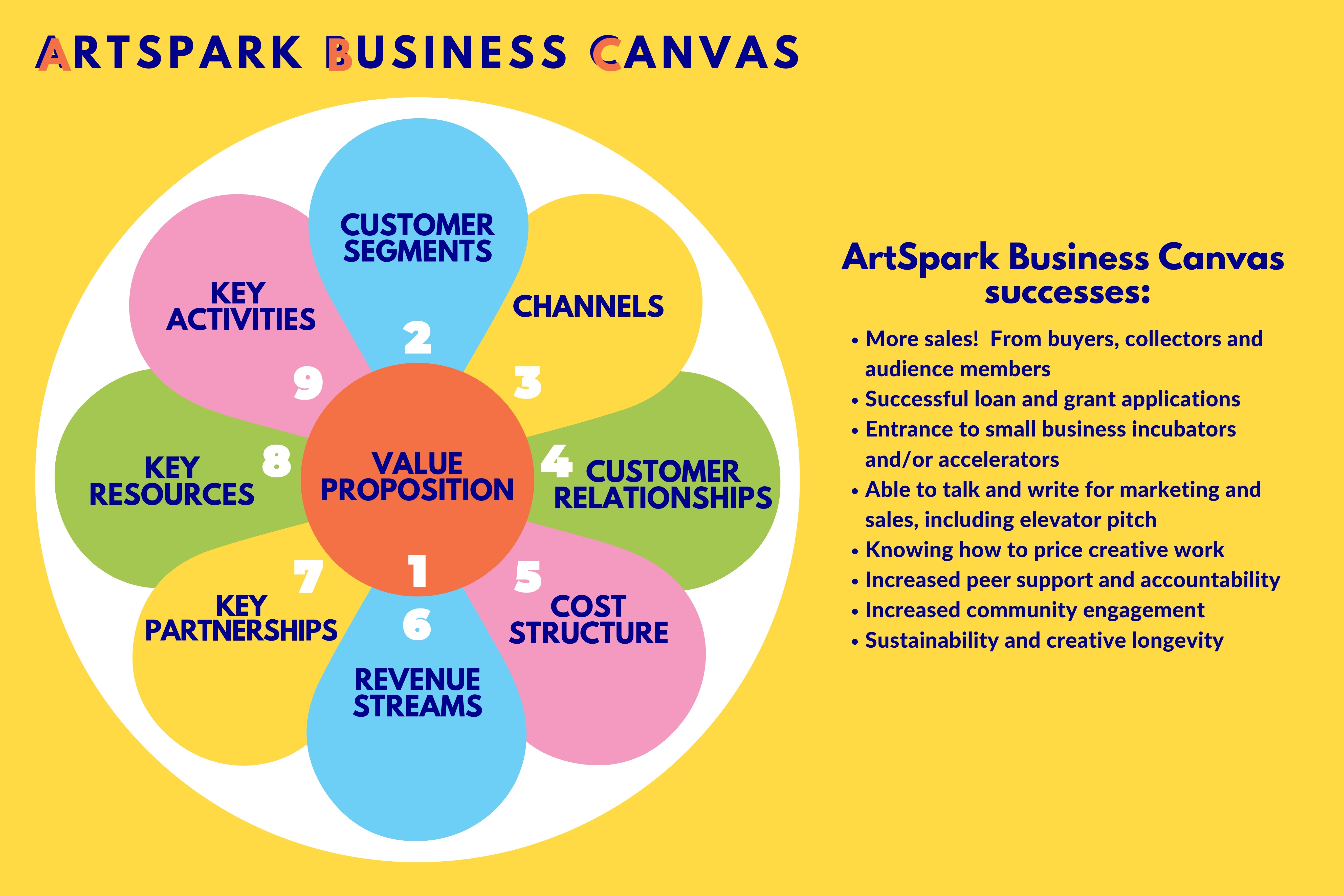 The ArtSpark Business Canvas is a proven business development tool and process that has empowered and equipped 400+ artists, creators and creative entrepreneurs to successfully make, market and sell their work.
What sets ArtSpark apart is our commitment to creative people making a living on their own terms while staying true to their creative practice.
ArtSpark is based in the San Francisco Bay Area, and is active in the U.S. and Canada, with plans for national (2019 – 2020) and global expansion (2020 – 2022).
Manifesto
"Igniting Widespread Creative Expression" sparks powerful, positive change in our world.
ArtSpark's Manifesto champions artists and creators to keep the creative spark alive while making choices about participating in the marketplace. ArtSpark's Manifesto also dovetails with our belief that artists and creators are essential to humanity's well-being, and creative expression can lead to great social change.
CREATE. MAKE ART.

This is every artist or creator's first priority. Make it so! Give creative expression your best energy and time.
Success is self-determined:

Success looks different for every artist or creator – honor what success means to you.
Making money is

a choice. Again, this choice is self-determined, and unique to you as an artist or creator. While many artists/creators deeply want to create a livelihood with their creative practice(s), other artists/creators choose to separate their creative practice(s) from the marketplace. both choices – and the spectrum that connects them – are worthy of respect.
Basic business knowledge and skills are an opportunity to match artistic vision with the marketplace.

If you want to make money as an artist or creator, be curious about the business side and learn as much as you can about business terminology (this, in and of itself, can be very empowering). Learn about the business skills that are unique to creative people… for example, many customers are drawn to you as an artist or creator as well as your creative work that they purchase. If you truly dislike the business side, reconsider your financial goals.
Ask for help building and managing the business side so you can remain true to your creative practice and art.

Recognize, know and take control of your business genius and outsource the rest. You can and must stay true to the wellspring of your creative practice by investing in business professionals who both support and protect you (e.g., coaches, bookkeepers, CPAs, attorneys, communications/social media consultants and website designers).
For more information email us at Alexandria@art-spark.org.