Advisory Circle
ArtSpark's Advisory Circle is a group of diverse individuals joining together to offer guidance to ArtSpark as we pursue our vision and mission. Advisory Circle members give strategic support to ArtSpark, and their collective gifts of time, energy and expertise boost the value that ArtSpark offers to artists and creators, and ultimately the power of arts and culture in communities.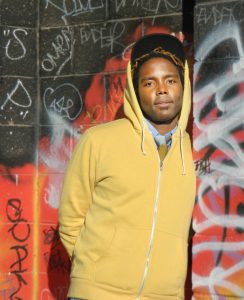 Hakim Bellamy as the inaugural Poet Laureate of Albuquerque, NM (2012-2014), Hakim Bellamy is a national and regional Poetry Slam Champion, and holds three consecutive collegiate poetry slam titles at the University of New Mexico. His poetry has been published in on the Albuquerque Convention Center, on the outside of a library, in inner-city buses and in numerous anthologies across the globe. Bellamy was recognized as an honorable mention for the University of New Mexico Paul Bartlett Ré Peace Prize for his work as a community organizer and journalist in 2007, and was awarded the Emerging Creative Bravos Award by Creative Albuquerque in 2013. In 2014, Bellamy was named a W. K. Kellogg Foundation Fellow and was awarded the Food Justice Residency at Santa Fe Art Institute. Bellamy has been named "Best Poet" in the Weekly Alibi's annual Best of Burque poll every year since 2010. His first book, SWEAR (West End Press/UNM Press) won the Tillie Olsen Award for Creative Writing from the Working Class Studies Association. He is the co-creator of the multimedia Hip Hop theater production Urban Verbs: Hip-Hop Conservatory & Theater that has been staged throughout the country. He facilitates youth writing workshops for schools, jails, churches, prisons and community organizations in New Mexico and beyond. Currently, Bellamy is completing multidisciplinary arts projects (manuscripts) from his travels to Turkey and Nepal last summer. Bellamy has had his work featured on AlterNet, Truthout, CounterPunch and the nationally syndicated Tavis Smiley Radio Show. He is the on-air television host for New Mexico PBS's ¡COLORES! Program. Bellamy holds an M.A. in Communications from the University of New Mexico, is the proud father of a 7 year-old miracle and is the founding president of Beyond Poetry LLC.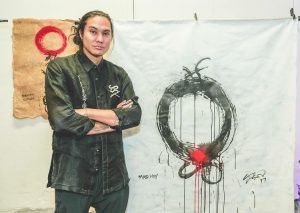 Kristian Kabuay was born in the Philippines and raised in the San Francisco Bay Area. He spent his college years in the Philippines where he honed his knowledge about the native ancient writing system, Baybayin. Kristian is a self-taught artist influenced by calligraphy, graffiti, abstract art, indigenous culture, technology, and Asian writing systems.

As a leading authority for the propagation and instruction of the Philippine script, he developed a modern performance style of the writing system called Tulang Kalis (Poetry of the Sword) and introduced it as Filipino Calligraphy with a series of live demonstrations and lectures at the Asian Art Museum in October 2012. He has spoken at numerous schools and institutions such as Stanford University, UC Berkeley, Harvard University, University of the Philippines, National Anthropology Museum of Madrid, and Tokyo University. Currently based in San Francisco, Kristian has been tirelessly advocating a reawakening of the indigenous spirit through decolonization and Baybayin. He' s currently working on his 6th book, documentary, augmented reality and online school.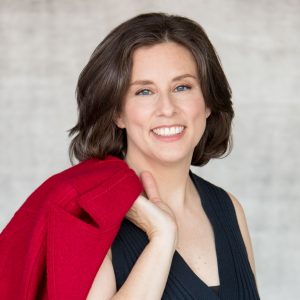 Jenny Kassan is an attorney and Capital Raising Coach for Mission-Driven Entrepreneurs. She is the owner of Jenny Kassan Consulting and helps mission driven entrepreneurs design strategies for financing and growth and develop the confidence, skills, and knowledge they need to grow their businesses on their own terms.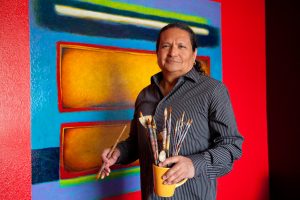 Rhett Lynch lives and works in Alameda, New Mexico. In his thirty years as a professional artist, he has found expression in a variety of mediums, from hand-woven tapestries to sculpture, drawings, monotypes to paintings in oil and acrylic. He continues to experiment with various mediums including: writing, directing, and acting in films and theater. Rhett is always seeing a broader visual vocabulary, in order to bring more power, life, and intensity to his art. He has focused on a broad range of subject matter, depicted in realistic as well as abstract manner: from the human form to animals, landscapes, icons, archetypes, myth, and legend – subjects whimsical to mystical. Rhett refers to his work as a visual journal, recording his experiences as a tourist of life.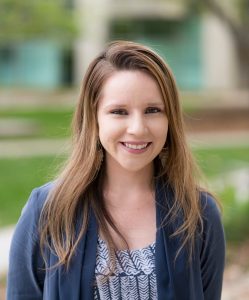 MJ Montoya is an entrepreneur based in San Diego, CA. She was ArtSpark's first employee in 2012 in Albuquerque, NM. MJ is the founder of New Life Birth Services, a birth, postpartum and lactation services company in New Mexico. Her interests lie in supporting women-owned and women-led organizations, and she invests in the creative economy anytime she can!