The Artist Business Canvas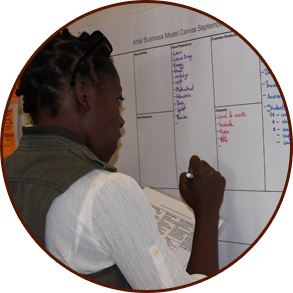 ArtSpark was the first to respond to artists and creators asking for an artist-centric version of the original Business Model Canvas (based on the book, Business Model Generation, by Alex Osterwalder and Yves Pigneur (www.strategyzer.com). We took up the challenge and now there's an Artist Business Canvas created for artists by artists.
Below is an abbreviated version of ArtSpark's Artist Business Canvas. The Canvas contains nine key strategies that are filled out sequentially. As the Canvas is completed, relationships and connections between the strategies/segments are explored.
The Artist Business Canvas process encourages participants to look at their business goals PLUS their artistic and creative goals. By the end of a workshop, each person (or small team) has completed a customized, unique Artist Business Canvas. Participants also gain a solid understanding of different creative business models plus a new community of fellow artists and creators to keep the momentum going.
The Artist Business Canvas has been facilitated in the U.S. and Canada since 2014, with a broad spectrum of artists, artisans, designers, and makers. The Artist Business Canvas workshop is suitable for anyone envisioning and building a business around their own original creative ideas.
If you'd like to host a workshop in your community, please contact us: info@art-spark.org